As you may have guessed, Tomas and I are both avid anime and manga fans. Our interest in Japanese pop culture goes right back to elementary school. Reading and trading our issues of Shonen Jump at recess, while we excitedly discussed the latest chapters of Naruto, Dragonball, and One Piece.
This is what Shonen Jump looked like at the time: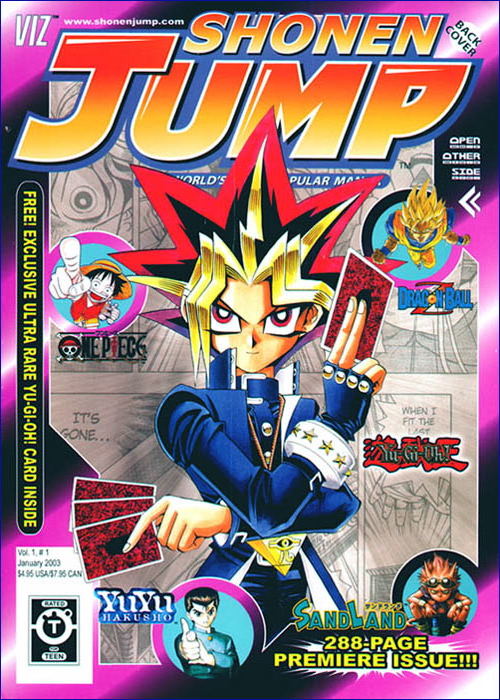 They weren't just collections of serialized manga either. They often featured exclusives - in fact, we've both still got our special Shonen Jump edition of the Blue-Eyes White Dragon card from Yu-Gi-Oh! 
While our interest in Japanese pop culture started with these magazines, it wasn't until we were in university that we took an interest in trying to learn Japanese. Language learning was challenging and fun, but was much easier back in school since our days were structured around studying. Not to mention having a seemingly endless amount of free time to consume even the trashiest of anime (I'm looking at you, Sword Art Online....)
Since graduating, the pressures of an adult life have made it much harder for both of us to find the time necessary to learn a language. Or really, just about anything new for that matter. We try our best to balance language learning, work, hobbies, and running Katana Sakana - but it isn't always easy. We even try to incorporate what we know into our designs. Some of our shirts feature Japanese text, such as Hunter (inspired by Hunter X Hunter) which features the title of the show written in katakana (ハンターハンター). We also created a design called inspired by Your Name (Kimi No Na Wa) that features the phrase "Suki Da" (すきだ) which roughly translates to "I love you" in Japanese. One of our newest designs is Detroit Smash, inspired by My Hero Academia, and features one of All Might's signature techniques written in katakana (デトロイトスマッシュ).
We figured there might be other folks out there who are interesting in learning Japanese. And, like us, found the time and dedication required to get started a bit overwhelming. Where do you even begin? And how do you keep it up after that first burst of motivation?
Based on our experiences, we've put together a small guide on how to start learning Japanese, as well as some links to some local, Toronto-based resources. Getting started is the biggest obstacle in the language-learning journey, so hopefully this guide will help you find a good starting point. 
As a side note, if you currently have a full-time job, it's worth checking out your employee benefits. Many companies sponsor or provide some kind of assistance (either monetary or time allowance) for self-learning and development! You must just have to get a bit creative in selling how it relates to your work.
Also, tax credits. If you are a Canadian, ask if your Japanese language school/organization is registered as an educational institution If it is, the cost of attendance can be used as an education tax credit and will lower your tax bill!
Japanese Language Schools in Toronto:
In our experience, nothing, absolutely nothing, beats practicing in-person with native Japanese speakers. However, short of moving to Japan, there are only a small handful of options for getting real, hands-on speaking and listening experience. Japanese schools are a great place to start. There aren't many in Toronto, but if you are able to make the trip, taking classes with real teachers is the best bang for your buck. Below is a list of some the most popular Japanese schools in Toronto, some of which we have had direct experience with and can personally vouch for:
1. Aitas Japanese Language School -  Sebastian: Aitas offers lessons in both group (small groups of 5 to 6 people maximum) and private settings (one-on-one aka マンツーマン!). The best thing about Aitas is that they teach in a "full immersion" method, meaning that the language of instruction is fully in Japanese. Don't worry about feeling lost in the beginning, that's part of the learning journey. You will soon be surprised at how much you can absorb and understand simply through osmosis. I can personally vouch that the teachers here are exceptional. They are all friendly, patient, and enthusiastic about teaching Japanese. Unlike some tutoring services, Aitas teachers are professionals with backgrounds in Japanese-language education, and are passionate about what they do. The head teacher at the school, Masa, is one of the nicest guys I've ever met and has made Aitas one of my favourite things about Toronto, period.
Aitas hold classes everyday of the week except Sundays. New students will need to take a proficiency test so you will be assigned to the right level and teacher.
Bonus!
Aitas also runs a monthly/semi-monthly language exchange club for its students. They pair their students with native Japanese speakers for 1.5 hours of conversation practice, with 45 minutes dedicated to speaking Japanese, and 45 minutes dedicated to speaking English. This is a great way to not only practice the language, but to meet new people and make new friends.
Aitas also helps students prepare for the Japanese Language Proficiency Test (JLPT) via mock exams held in the months leading up to the annual exam.
Tuition counts as a tax credit!
2. Toronto Japanese Language School (TJLS) - Sebastian: I took introductory Japanese at TJLS for 9 months from September 2013 to  May 2014. From their website TJLS "...provides instruction to anyone, from preschool to senior who is interested in learning about Japanese language and culture, whether for individual development or business reasons.".
Speaking from experience, TJLS is great for beginners, as it has a very laid-back and casual environment, and all classes are taught by a native Japanese speakell, usually an international student from Japan. However, beyond the beginners phase of learning Japanese, TJLS is probably not for the long-term. Their main purpose is to teach the language to second-generation Japanese Canadians. For those who are more serious about improving their Japanese fluency should move on to study at a professional Japanese language school, or take university/college classes.
3. The Japan Foundation Toronto - JFTor is an organization that is dedicated to promoting Japanese culture in Canada. They hold many language classes, workshops, seminars, art exhibitions, film screenings, and cultural events throughout the year. Many events are free! The Japan Foundation is a true hidden gem in Toronto, particularly because of its library. The JFTor library holds many books in both English and Japanese, language learning textbooks, Japanese magazines, Japanese and English manga, and a considerable Japanese Blu-Ray and DVD collection. Best of all, its free!
4. Japanese Canadian Cultural Centre - Much like the Japan Foundation, the JCCC works to promote the Japanese culture in Canada, with a focus on supporting Japanese immigrants and Japanese-Canadian families. They offer many cultural workshops and classes, including Japanese language courses. They also offer a variety of martial arts classes - including Judo and Kendo!
In order to take classes, you need to be a JCCC member, which costs around $60 per year.
Japanese Language Classes in Toronto:
Local universities and/or colleges are also great resources for language learning. Many school have departments of continuing education, which offer a range of language courses for both students and non-students.
University of Toronto School of Continuing Studies - Tomas: U of T offers six levels of Japanese instruction, from introductory to advanced. The School also offers a Japanese reading and writing class, and can facilitate small group (5-6 people) and one-on-one sessions with the instructors at additional cost. In my experience, the classes are a great way to ease into picking up a new language in a low-stress environment. Generally, the classes are small (10-15 people) and the instructors follow a well-mapped curriculum using Japanese for Busy people. In terms of content, the courses are definitely geared towards individuals looking at language learning as a hobby, rather than a rush to fluency.
It is worth noting that if you complete levels 1 - 4 in addition to the reading and writing class, the School of Continuing Studies will provide you with a conversational languages certificate in Japanese.
As I'm still working my way through the complete program, I'll likely revisit this post once I've taken all the courses.
 Online Japanese Language Resources:
Duolingo - great for beginners, but it kind of places you right in the middle of Japanese grammar and vocabulary without explanation of the rules or reasoning behind the exercises. Great for the "what" of Japanese, but not the "why".
Tae Kim - a great reference for Japanese grammar, study tips, and links to other Japanese study resources.
Studying Japanese in You Free time
In our experience, nothing beats self-study. It doesn't have to be everyday for hours on end. Consist study (even just 30 minutes a day) will go a long way over time. Below are some resources for learning Japanese in your free time:
Meetup.com - A great resource for finding language exchange meetups in your local area. For readers in Toronto, there are a couple of exchanges that happen in the Bloor/Yonge area, and meet up 1-2 times per week. Come prepared to speak in both English and Japanese!
Read manga in Japanese - You can pick these up if you are in Japan (only 100 Yen at Bookoff!), order online, or even find free scans online.
Watch Japanese movies/dramas - best way to get used to listening to the language. Spoken Japanese in movies and dramas are much closer to reality than anime.
Watch Anime - good practice, but sometimes the way of speaking can be exaggerated and childish. Real spoken Japanese rarely sounds like characters in popular anime. That said, there are some great series with more realistic dialogue, such as Erased. We loved that series so much we made a shirt inspired by it!
Reddit - /r/learnjapanese - link to comprehensive resource list
Japanese Stack Exchange- like getting help with code, but for Japanese!
Studying Methods: Old School
From our experience, the old school methods of studying are ultimately tried and true for a reason. Apps and online games based around learning Japanese are a great supplement to studying, but buckling down and reading textbooks, solving practice problems, and listening to dialogues really yields the most benefit.
Some popular books that you can work through in the classroom or on your own:
Minna no Nihongo
Tobira
Try! JLPT series
Japanese for Busy People
Remembering and Kana and Kanji
Conclusion
For many beginners, the holy grail of learning Japanese is being able to watch anime without subtitles. While this is solid goal to have, learning a new language also opens many other worthwhile opportunities. You'll get to meet new people, make new friends, and gain deeper insight into the culture. The path to fluency is long and arduous, but it will all seem worth it when you find yourself holding a conversation with locals at a small pub in rural Japan...
...Or, in our case, listening the president of a soap company (or so his business card said) pontificate about the wonders of Japanese wine (read: sake) before whisking us away to snack bar run by his second wife to sing some karaoke.